There are healthy options when cooking with La Caja China. Now that the weather is warming up it might be time to start experimenting with your Caja Asadora.  This new recipe is by our favorite chef and author of La Caja China Cooking: Secret to perfect roasting Perry P. Perkins. The ingredients you will need for his famous Whole Stuffed Salmon recipe include: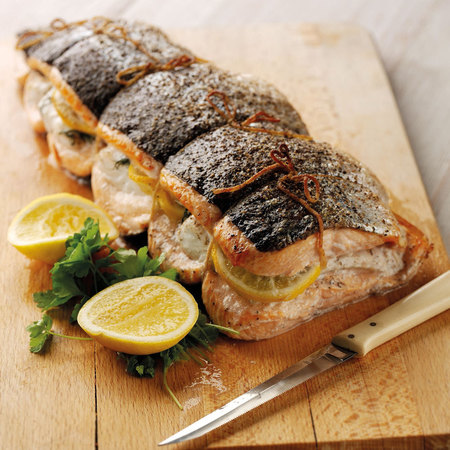 2 whole salmon
4 large onions, diced
8 Tbs parsley, chopped
4 tsp ground oregano
1 tsp black pepper
24 thin slices of lemon
12 slices bacon, diced
12 cloves garlic, minced
1/2 lb fresh sage, chopped
2 tsp fennel seed
1 tsp sea salt
Olive oil for brushing
Salmon should be at least 8 lbs each, boned for stuffing and scaled
In a skillet, cook diced bacon over low heat until lightly browned, about 2 to 3 minutes. Add onion and garlic; saute for 4 minutes. Remove from heat. Stir in remaining stuffing ingredients. Chill completely.
Lay salmon on work surface, butterflied; season flesh with sea salt and pepper. Lay 3 lemon slices on each side of each salmon.
Spread chilled stuffing on one side and fold other side of salmon over the mixture.
Tie salmon with butcher's twine or use metal skewers to hod Salmon closed. Cover tail with foil.
Brush salmon with Olive Oil.
Add 16 lbs. of charcoal for Model #1 Box or 18 lbs. for Model #2 or Semi Pro Box and light it up. Once lit (20-25 minutes) spread the charcoal evenly over the charcoal grid.
Move charcoal grid and ash pan to handles and place fillets on the bottom Caja China rack (you won't need the top rack) and tent with foil.
Re-cover box with the ash pan and charcoal grid.
Roast 15 minutes, remove foil, and replace lid. Roast an additional 5 minutes or until salmon is easily flaked with a fork.
Hope you enjoy! Feel free to send us pictures or messages including your memorable roasting experiences. For more information please contact us at 888-272-7629.
Email: thelatintouch@gmail.com
Facebook: Latin Touch Products
Twitter: @cajachinasales
Pinterest: Caja China Grill Masters